Refer a Friend, Get Rewarded
Share your friend's contact info below and our sales team will be in touch to offer them $5,000 off their home list price.
If they buy, contact the Village Green team to claim your month of free site rent.
By supplying the email of your friend, you are consenting to contact on your behalf by the Village Green team. Offer subject to change at the discretion of Windward Communities. Sales Manager must be notified of resident name at first contact with prospective renter/buyer.
*Certain conditions apply. Please see Sales Manager for further details.
Yard of the Month
Keeping our community beautiful is our shared responsibility. While we keep the community areas neat, it is our resident's responsibility to keep up with their yards. To acknowledge our residents who work hard to keep our community in tip-top shape, each month we will reward one resident with the Yard of the Month award.
Win Yard of the Month and you will receive:
$50 Rent Credit
Yard of the Month sign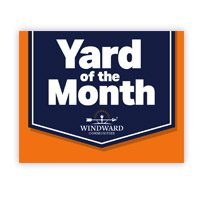 Windward Communities appreciates our resident's dedication to improving our community.
Dog of the Month
Think you have the cutest pooch on the block? We think it's time to find out with our new Dog of the Month program. Each month, you can submit the furry member of your family to compete against their neighbors to see who really is the top dog.
Win Dog of the Month and you will receive:
$50 Rent Credit
Gift Bark-sket